Post by ROMAN DI ANGELO on Jan 13, 2020 9:28:08 GMT
[googlefont="Kaushan Script"]
Roman di Angelo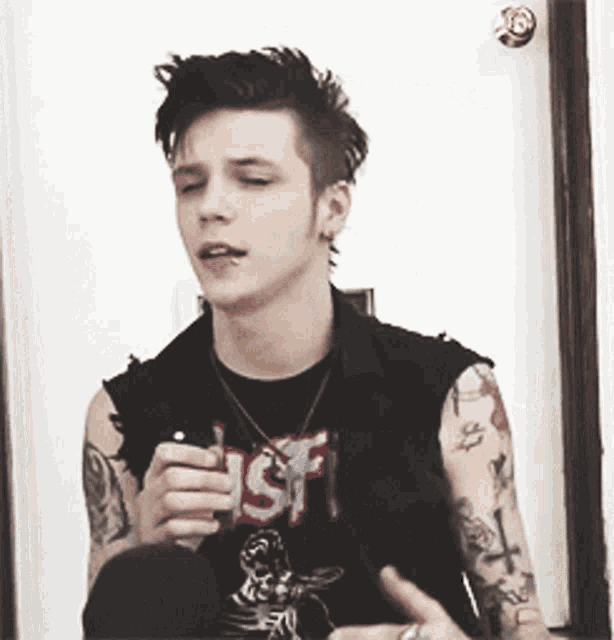 Age:
15
Birthday:
October 11, 2003
Species:
Wizard
Blood Status:
half blood (Pureblood father, half blood mother)
Job:
student
House:
slytherin
Face Claim:

Andy Biersack







personality



Positive Traits: creative, wisecracking, charming

Negative Traits: trouble maker, sarcastic, martyr

Quirks and Habits:
• obnoxious when he sneezes
• not a morning person... At all.
• not good at hiding his emotions. He'll at the very least make a face whether he means to or not.
• drums pencils when he's bored.
• occasional smoker

Likes: music, tattoos, spontanety, animals

Dislikes: stuck up people, seafood (I know, Aggy. After all that talk about the giant squid), overbareing colognes

Boggart: his father

Mirror of Erised: Becoming a famous singer, with his mom standing next to him on the stage.

Patronus: boa





history



• When he was 9, his mother passed away after battle illness. His father never was a good man before, but after his mother's death he became an alcoholic-- this strain at home makes it difficult for him to want to bring people into his life outside of school

• Ro learned how to play the guitar from his great uncle on his mother's side-- a squib who lived a life on the road in his youth finding magic in his music. He gave him his guitar when he was 7, and from that day on he knew he wanted to be just like him. He values his uncle's legacy and wants to honor it and become a famous singer.

• the day he met Agnes Clearwater - he's had a crush on her since his first year but has always been her close mate. It gave him a confidante to express himself to about his home life was difficult. The first day they talked he played his guitar for her, and even bet he could fight off the giant squid... He still hasn't done it.





roleplayer


RP Alias:
kat
Pronouns:
she/her
Hogwarts House:
slytherin
Other Characters:
ROSALIA CAPONE
ELENA COLDWATER
VIKTORIYA BACHOVA
ASTORIA MALFOY
Roleplay example:
The mother of all charms when it came down to it-- a patronus charm. It was doubt a desireable, but due to the complexities it was quite difficult. With the students nearing the end of their school, she wanted to give them something to truly set them up for greatness and success. While she had taught them the basics of charms it was time for the ultimate test to see who truly had a gift for the art and who had simply been skating by.
Honestly, she had faith in her students than many believed. While she was a caring and maternal woman she was quite strict on her students. If they didn't succeed, she would ensure they would... Even if that meant took extra time outside of class to get something down, she would do it. While school years were, given it meant being away from her husband it was her passion. She was able to watch her son grow and succeed along with the other children, and honestly, it's all she have ever asked for.
The chalk inscribed the spell as she class punctually, " Today, we're to truly push the limits of charms with what has been branded one of the most difficult charms to truly master-- a patronus charm, " She raised her wand, demonstrating the movements as she cast the charm, "Expecto patronum," She proclaimed as a vibrant white light appeared along with the form of a graceful swan flying in and landing as if it returned to the water's surface. She allowed the spell to linger a moment before, turning back to her, " For those already familiar, can anyone tell me a scenario in which this spell would be useful?"